Warning
The documents referenced on this page are:
Not official in any way
Reflective of easyJet SOPs rather than Airbus SOPs
Very possibly factually incorrect
That said, a large part of the motivation for publishing these documents online is that the mistakes I have made can be reported and corrected. Therefore, if you notice anything wrong, please email me at hursts.org+doc-errors@gmail.com and I'll put it right ASAP.
News
8th April 2021
Thanks to my daughter arriving back for Easter, I finally got the chance to confirm that aimsgui works correctly on MacOS. The installation of Python 3 alongside the preinstalled Python 2 is as painless as I had hoped, and the Linux instructions for running it work perfectly in the MacOS terminal. The installation and usage instructions have therefore been updated appropriately.
26th March 2021
Updated aimsgui to version 1.0. This update adds the option to remove the header from csv output. This removes a bit of friction when using this output with a spreadsheet based logbook. The example spreadsheet logbook has also been updated with a slightly more advanced version, featuring sub-totals by type, role and night/day and totals relevant to FTL limitations.
18th March 2021
Updated aimsgui to add a "Night" column to the csv output. This is a number between 0 and 1 that, when multiplied by the duration of the flight, will give you the duration of regulatory night flying (30 minutes after sunset to 30 minutes before sunrise). The calculation for this uses an assumed great circle routing to continually assess the day/night status at the aircraft's position throughout the flight, so it is much more accurate than using the values for origin or destination.
11th January 2021
Updated Summary of easyJet manuals to version 2.1.1. This update adds the NEO fan blade ice shedding procedure and updates external cross references in the Winter Operations section.
10th January 2021
Updated Quick Reference to version 1.4. This update mainly adds data for A321 NEO and updates external cross references.
6th January 2021
Updated Summary of easyJet manuals to version 2.1. This has a completely rewritten section on easyJet Oceanic Operations to account for the many recent changes in North Atlantic operational procedures. I am particularly interested in feedback (email address above) on this new section as it is put together from multiple sources including NAT documentation and relevant state AIPs, meaning that there is a greater than normal chance of something being incorrect or something useful being omitted.
Printed Version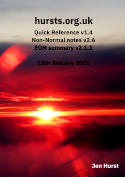 For your convenience, a 240 page paperback combining the Quick Reference version 1.4, Non-normal Notes version 2.6 and Summary of easyJet manuals version 2.1.1 is available to order from lulu.com. The current edition was created on 11th January 2021.
To complete the book, it is useful to have a couple of tabs to quickly get to the contents pages; you just need a printer, a scalpel, some glue and this PDF.
Contents
A320 Family Non-normal notes
A set of notes covering major airbus non-normal events. The initial version was notes made during my type rating at CAE, but they have since been heavily updated from the FCOM, QRH and experience in the simulator.
Version:

2.6 (last updated 30th December 2020)

License:

Files:

Source code:

Docbook hosted by GitHub
Summary of easyJet manuals
A summary of parts 1 to 8 of EOM-A with additional information from EOM-B (Airbus), CSPM, the LIDO Route Manual and NAT documents.
Version:

2.1.1 (last updated 11th January 2021)

License:

Files:

Source code:

Docbook hosted by GitHub
A320 Family Quick Reference
Lots of useful numbers and such. These are gathered together from pretty much every manual in the easyJet/Airbus manual suite, and include cross references back to their source.
Version:

1.4 (last updated 10th January 2021)

License:

File:

Source code:

LaTex hosted by GitHub
A320 technical notes
A set of notes covering technical details of the airbus. These notes mainly reflect the CBT from CAE, but are also include more detailed stuff from the FCOM where appropriate. Like the CBT, they are very generic and thus a good place to get started on the technical side of things, but they cannot hope to accurately cover the almost infinitely variable modification levels found in the A320 family.
Version:

0.5 (last updated 12th November 2008)

License:

Files:

Source code:

Docbook hosted by GitHub
aimsgui
An open source, cross platform, GUI tool for converting a downloaded AIMS roster to either CSV text format, suitable for working with logbooks in spreadsheets (example spreadsheet), or an iCal format, suitable for loading into calendar programs such as Google Calendar. More information…
Version:

1.0 (last updated 26th March 2021)

License:

Files:

Source code: